Commercial Locksmith Services in Panama City, FL – Protect Your Business with Local Locksmith PCB
The security of your commercial premises is of utmost importance in the modern business landscape. From retail stores and offices to factories and warehouses, a secure environment is not only crucial for protecting valuable assets, but also integral to the safety of your employees. Commercial locksmith services in Panama City provide a comprehensive solution to a wide range of security challenges faced by businesses today.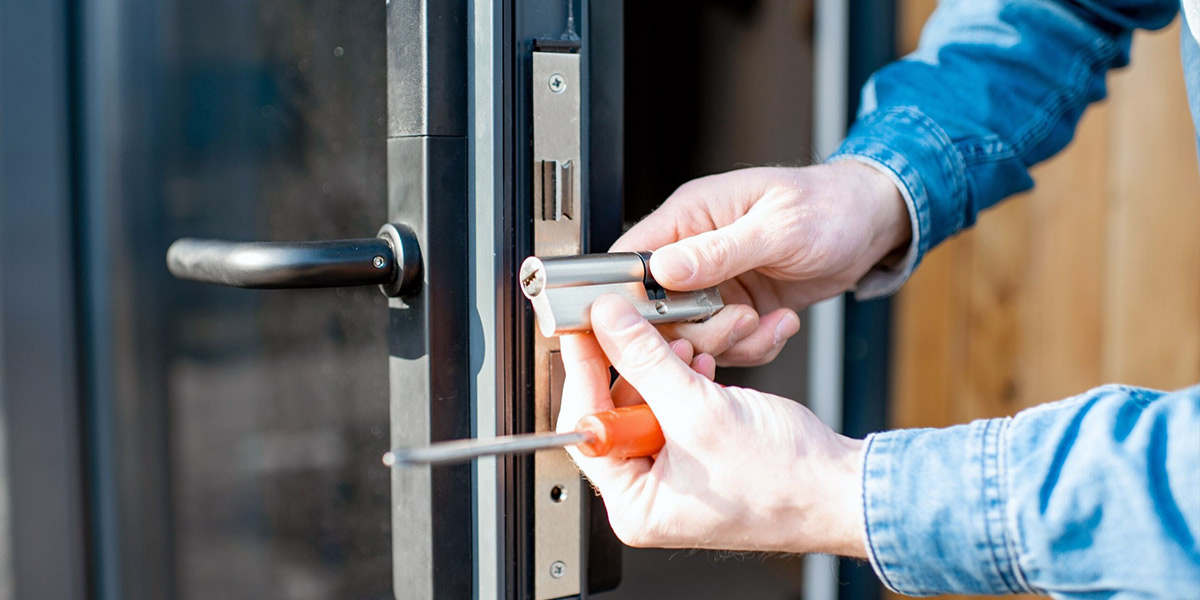 Decoding the Complexities of Commercial Lock Systems
Commercial spaces demand higher standards of security compared to residential properties. The lock systems employed are typically more intricate and robust, designed to withstand sophisticated breaches. As your trusted commercial locksmith partner in Panama City, we navigate these complexities to ensure the complete security of your business.
Traditional Lock Systems in Commercial Spaces
Traditional locks, such as pin and tumbler locks or mortise locks, are a common sight in commercial properties. These locks provide a basic level of security, suitable for interior doors in office buildings or storage closets in retail spaces. However, the relative ease with which these can be picked or bumped open necessitates a more secure solution for high-risk areas.
Commercial High-Security Locks
For spaces that demand enhanced protection, commercial high-security locks are the go-to solution. Equipped with added security features, these locks present a formidable challenge to picking, drilling, and other lock-breaking methods. Manufactured from high-grade, resilient materials, commercial high-security locks also come with intricate key systems that resist unauthorized duplication.
Electronic and Smart Locks for Modern Commercial Spaces
With the rapid advancements in technology, businesses are embracing the security and convenience offered by electronic and smart locks. These modern lock systems use digital keys, codes, or even biometrics, eliminating the risks associated with physical keys. Notably, smart locks offer features like access control and logs, providing you with insights into the comings and goings in your commercial space.
Panic Bars and Exit Devices in Commercial Buildings
In commercial environments, safety and compliance with regulations are as important as security. This is where panic bars and exit devices come into play. Installed on emergency exits, these devices ensure a safe and swift exit during emergencies, all while maintaining a secure barrier against outside access.
Addressing Common Commercial Locksmith Problems
Every commercial space faces unique challenges when it comes to security. Our Panama City commercial locksmith services are designed to address a range of issues, from the simplest lock repair to the most complex high-security lock installation.
Whether you've experienced a break-in, lost your keys, or are dealing with a faulty lock, our commercial locksmith team is equipped with the expertise and tools to provide a swift and effective solution. We understand the potential disruptions such incidents can cause to your business operations and are committed to minimizing downtime.
Our commercial locksmith services also extend to preventative measures. Regular maintenance and timely upgrades can significantly reduce the risk of security breaches. By staying abreast with the latest in security technology, we can recommend and install the most suitable commercial lock systems for your business.
Ensuring Business Continuity with Reliable Commercial Locksmith Services
At the end of the day, security forms the backbone of your business continuity plans. With reliable commercial locksmith services in Panama City, you can be assured of a partner dedicated to protecting your business interests. Our comprehensive suite of services, backed by our commitment to excellent customer service, makes us your trusted partner in commercial security solutions.
Master Key Systems for Commercial Premises
Master key systems are an integral part of commercial security strategy. These systems allow you to control access to different parts of your premises. A master key system gives you a tiered level of access, with master keys capable of opening multiple locks, and sub-master keys designed to open specific sets of locks. This tiered access is especially useful in large commercial buildings, hotels, or facilities where different levels of access are required.
Rekeying Services for Commercial Properties
Rekeying is another common service we offer to commercial clients. If you've recently taken over a new commercial space or suffered a security breach, rekeying can provide an affordable and effective solution to enhance security. Our locksmiths can adjust the internal mechanisms of your existing locks, rendering old keys useless, and providing you with a new set of keys without the cost of changing all the locks.
Commercial Safe Services
Safes are vital for businesses, as they provide a secure space to store valuable assets, confidential documents, and cash. However, safes can also present challenges if they get jammed, or if you forget the combination. Our commercial locksmith services include safe opening, repairing, and servicing, ensuring your valuables are always securely stored and easily accessible when needed.
The Future of Commercial Locks: Biometrics and Beyond
The future of commercial locksmithing is shaping up to be highly digital. Biometric security systems, which use unique physical characteristics like fingerprints or retinal scans, are becoming more prevalent in high-security commercial environments. These systems provide a high level of security and are also incredibly convenient — no more lost keys or forgotten codes.
As part of our commitment to offering the most advanced and effective security solutions, we stay updated with these technological trends. We can advise you on whether these cutting-edge systems would be beneficial for your business, and offer professional installation services if you decide to upgrade.
Choosing Your Commercial Locksmith in Panama City
When it comes to your business security, you want a commercial locksmith service that is reliable, experienced, and up-to-date with the latest technologies. We tick all these boxes and more. Our team of certified locksmiths in Panama City is dedicated to providing excellent service, whether it's an emergency callout, routine maintenance, or a complete security upgrade.
Your business deserves the best when it comes to security, and we're here to provide it. Get in touch with us to discuss your commercial locksmith needs and let us help you create a safe, secure, and successful business environment.