Freightliner Keys Replacement in Panama City | Local Locksmith PCB
When it comes to replacing Freightliner keys, the services provided by Local Locksmith PCB stand out for their efficiency and reliability. We understand the unique needs of truck drivers and fleet managers, which is why we've specialized in handling the different key types across various Freightliner models and generations.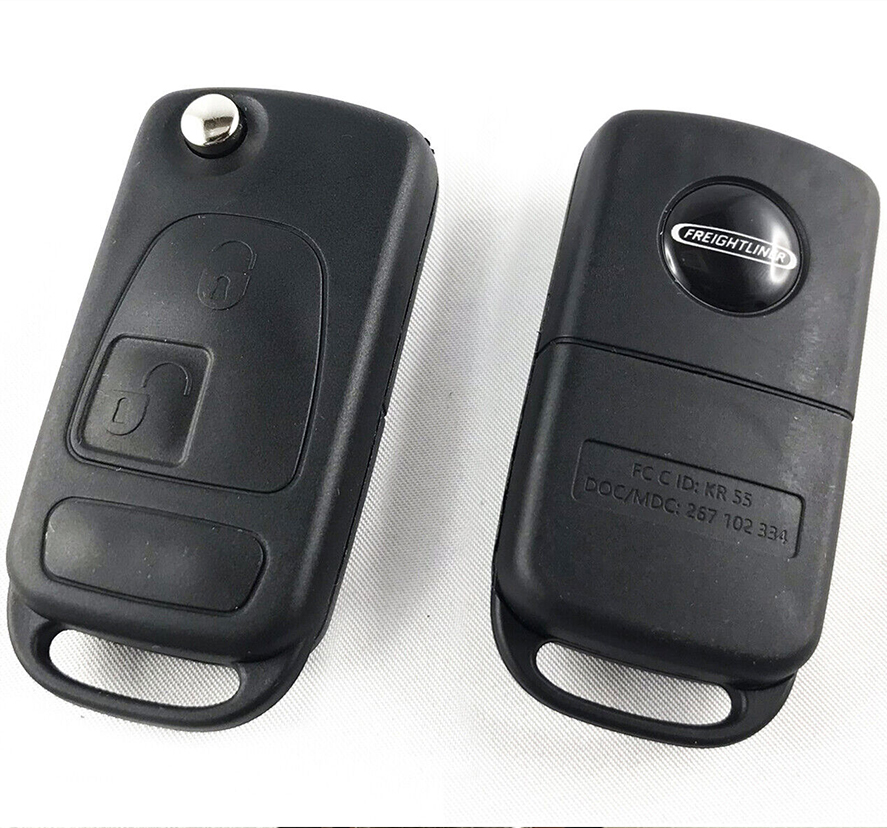 Freightliner and Its Diverse Key Types
Traditional Freightliner Keys
Traditional Freightliner models, such as the early FL series, used simple mechanical keys. These keys were cut in a unique pattern to match the vehicle's lock and ignition system. Losing such a key means requiring a new one cut precisely to fit your truck's specific lock design.
Freightliner Transponder Keys
As Freightliner advanced its technology, they introduced transponder keys in some of their models. These keys, common in models like the Century Class, have a small chip embedded that communicates with the truck's ignition system. This technology adds an extra layer of security but also complicates the key replacement process.
Freightliner Remote Key Fobs
The modern Freightliner trucks, like the Cascadia, often come with remote key fobs that allow keyless entry and ignition. These advanced keys require specialized programming to ensure they sync with your specific vehicle.
The Evolution of Freightliner Keys Across Generations
Early Generations
Freightliner's early generation models used mechanical keys, which were fairly straightforward to replace. The locksmith would cut the key using a unique pattern matching the ignition system of your truck.
Middle Generations
Transponder keys were introduced in the middle-generation models. The replacement of these keys involves two steps. The key must be cut precisely to fit the vehicle's ignition, and the transponder chip within the key must be programmed to match the truck's system.
Latest Generations
In recent Freightliner models, key fobs are more common. These require not only the mechanical cutting of a physical key (in cases where one is present) but also sophisticated programming to pair the fob with the vehicle's onboard computer system.
Freightliner Models
FLA, FLB, FLT, FLL, FLC, FLD, Classic Series, C-Series, SD-Series, Business Class, Condor, EconicSD, Cargo, Business Class M2, MT-Series, Freightliner Sprinter
Year:
1990, 1991, 1992, 1993, 1994, 1995, 1996, 1997, 1998, 1999, 2000, 2001, 2002, 2003, 2004, 2005, 2006, 2007, 2008, 2009, 2010, 2011, 2012, 2013, 2014, 2015, 2016, 2017, 2018, 2019, 2020, 2021, 2022.
Trust Your Freightliner Keys Replacement to Local Locksmith PCB
At Local Locksmith PCB, we comprehend the nuances of Freightliner key technology across different models and generations. Our team of experts is equipped with the knowledge and tools to replace keys, from the most straightforward mechanical key to the most advanced key fob.
In conclusion, no matter the type of key or the model of your Freightliner, you can rely on Local Locksmith PCB for your key replacement needs. Our team is prepared to handle the complexities of the task, ensuring your Freightliner is secure and operational. With our assistance, you will find the key to your problem, and your key-related worries will be in the rear-view mirror.