Peterbilt Keys Replacement in Panama City – Local Locksmith PCB
Kenworth trucks, a prominent name in the commercial trucking industry, offers robust models ranging from the T270, a medium-duty workhorse, to the impressive heavy-duty T880. Whether you're an owner-operator or a fleet manager, keeping your Kenworth truck secure is vital. At Local Locksmith PCB, we specialize in providing comprehensive key replacement services for various Kenworth truck models.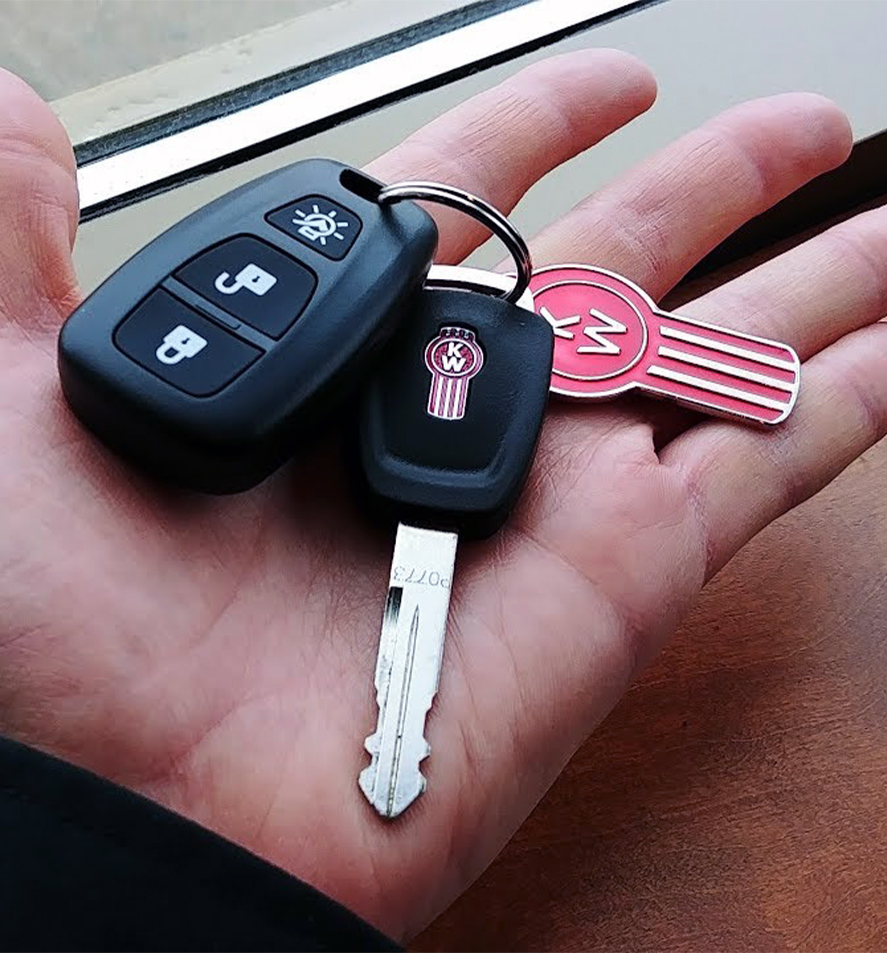 Kenworth Key Types: Ensuring Truck Security
Over the years, Kenworth has utilized various key types to enhance the security of their trucks. From traditional mechanical keys to modern transponder keys, the evolution has been focused on increasing security and making the life of Kenworth truck drivers easier. Whether you need a replacement for a basic metal key or require programming for a transponder key, our locksmith experts can assist you efficiently and promptly.
Advanced Key Programming for Kenworth Trucks
Kenworth's latest models often come with advanced keys featuring transponder chips. These chips communicate with the truck's ignition system, enhancing security by only allowing the truck to start with the correctly programmed key. If you've lost your Kenworth's transponder key or need a spare one, our experienced locksmiths can provide you with a new key and program it to sync with your truck's ignition system.
Local Locksmith: Your Kenworth Key Solution
At Local Locksmith, we understand the crucial role that Kenworth trucks play in logistics and transportation. Hence, we have tailored our services to cater to Kenworth truck owners' specific needs. From key cutting to programming advanced transponder keys, we offer a complete suite of locksmith services to keep your Kenworth truck secure.
Emergency Locksmith Services for Kenworth Trucks
Getting locked out of your truck or losing your keys can cause significant downtime, impacting your schedule and productivity. At Local Locksmith, we offer round-the-clock emergency services to help Kenworth truck owners and operators in such scenarios. No matter what time of the day or night, our mobile locksmith units can reach you quickly and solve your key-related issues.
The Local Locksmith Commitment
As a local business, we are committed to serving our community with the highest standards of professionalism and integrity. We continually update our knowledge and skills to keep up with the evolving technology in Kenworth truck keys. Whether it's the classic W900 or the modern T680, we are equipped to handle key replacement services for all Kenworth models.
Kenworth Models
C500, K270, K370, T170, T270, T370, T440, T470, T680, T800, T880, W900, W990
Year:
1990, 1991, 1992, 1993, 1994, 1995, 1996, 1997, 1998, 1999, 2000, 2001, 2002, 2003, 2004, 2005, 2006, 2007, 2008, 2009, 2010, 2011, 2012, 2013, 2014, 2015, 2016, 2017, 2018, 2019, 2020, 2021, 2022.
Extensive Knowledge of Kenworth Models
Our team at Local Locksmith has in-depth understanding of a wide range of Kenworth models. Each model may require different types of keys and our locksmiths are well-versed in the technicalities of these variants. If you're driving a T680 or operating a C500 for your off-road endeavors, we can cater to your key replacement needs proficiently.
Replacement Keys for Kenworth Vintage Models
For vintage Kenworth enthusiasts who own a piece of the brand's illustrious history like the Kenworth K100, don't worry! We can also assist with mechanical keys for classic Kenworth models. We honor the legacy of these trucks by providing key solutions that keep them running securely and smoothly.
Proximity Keys for Latest Kenworth Trucks
The latest Kenworth models come equipped with proximity keys for a seamless, keyless entry experience. If you need a replacement for your Kenworth proximity key, you can rely on us. Our team is skilled in programming these complex key systems, ensuring you can benefit from the convenience of keyless entry without any hassle.
Spare Keys: An Extra Layer of Security
Having a spare key is a wise move for any truck owner. It gives you peace of mind and prevents inconvenience in case of a lost or damaged key. Local Locksmith can create a perfect duplicate of your Kenworth truck key, saving you from potential downtime.
Quality and Trust: Local Locksmith's Core Values
At Local Locksmith, we believe in providing high-quality services. We understand the significance of a sturdy, perfectly cut and programmed key for your Kenworth truck. Therefore, we ensure all our key replacement services meet stringent quality standards. Our existing customers choose us repeatedly because of our trustworthy services and the sense of security we provide.
When it comes to Kenworth keys replacement, we combine our technical knowledge with our commitment to customer service, ensuring your needs are met professionally and promptly. No matter the model of your Kenworth truck or the complexity of the key, we strive to provide you with the best possible locksmith service. Let Local Locksmith be your go-to solution for any key issues with your Kenworth truck.